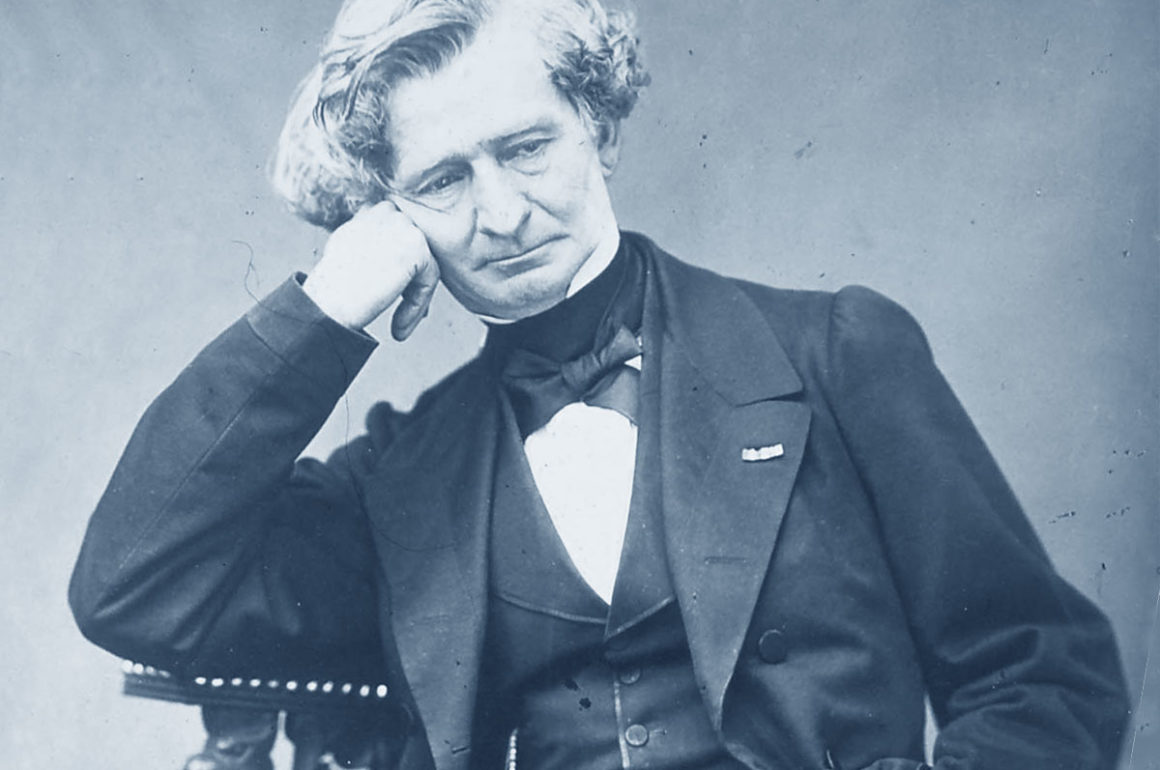 An interview with Jean Claude Malgoire about Hector Berlioz and his time…
INTRODUCTION
When I heard for the first time Hector Berlioz' "Symphonie Fantastique" i was still a teenager: I had been reading some time earlier, that Niccolò Paganini had been fascinated by the young Berlioz, so I wanted to have a closer look to this eminent french composer's work.
The story between Paganini and Berlioz is complex: first enchanted by the fire and modernity of his music (especially when he heard the "Symphonie Fantastique"), Paganini ordered a Viola concerto to the young composer. Paganini owns a wonderful viola made by Stradivari, and wants to enhance this wonderful instrument with a work at the height of his virtuosity. On one side we can understand Paganini's demarche, but on the other side we can easily guess under which pressure young Berlioz felt.
He starts composing "Harold en Italie", a symphony in four parts. During the first perusals with the composer, Paganini shows himself extremely unhappy. He, the grand Paganini, should play only a few notes here and there, from time to time? The collaboration is violently stopped: Paganini is upset and the symphony will stay in a drawer for several years…
When then "Harold en Italie" was eventually premiered by the end of 1834 (at the Conservatoire de Paris, under the baton of Narcisse Girard and Chrétien Urhan playing the viola), Paganini is in the hall. He discovers this work and remains subjugated.
Already very sick and voiceless because of his disease, he meets Berlioz backstage after the concert to congratulate him. His son, Achille, was his "translator", the only one able to understand the words said by the Maestro.
But Paganini's acknowledgment does not stop there: knowing in which difficult situation Berlioz is, he sends him next day a very touching letter, in which he makes him part of his admiration, but also a donation of 20.000 gold french francs (a staggering amount at that time), which will allow Berlioz to get finally out from his daily issues and flourish.
(Les mémoires d'Hector Berlioz)
They remained friends until Paganini's death, two years later.
—
I do not think we need to say a special word about Jean Claude Malgoire, chef of the "La Grande Écurie et la Chambre du Roy". I have been heartily received during the rehearsals for the concerts, celebrating 50 years existence of his ensemble.
His musical point of vue, as well his knowledge going from the middle age to our days, presents us Hector Berlioz under a different angle, being a romantic a rebellious soul.
—
Jean-Claude Malgoire:
"After spending 25 years playing symphonic music, especially as solo oboe at the "Société des Concerts du Conservatoire" (founded by Habeneck, who among other conducted the première of the "Symphonie Fantastique") and english horn at the Orchestre de Paris, I have been soaked of romantic and revolutionary interpretations: I have a kind of hero, it's Charles Munch, which I have for long time stand along with, and who was the one who made me understand what romantisme and rebellion means.
Like Berlioz, he was a strong, stubborn personality. (He was by the way Doctor Albert Schweitzer's nephew). He has been Konzertmeister at the Gewandhausorchester Leipzig. When Wilhelm Furtwängler encouraged him to become a conductor, he flourished.
I recorded twice the Symphonie Fantastique, once with Karajan and once with Munch, and I played it countless times, and it's this emotion which I try to humbly recreate today, though I won't be able to.
Today I feel in some kind the testamentary executor of Charles Munch, who died quite 50 years ago. I have the feeling that we had to go through technically high level versions, but with a clear lack of passion and vigor.
I feel neither in the bloodline of these already existing interpretations, nor at a breaking point. I am old, although I don't really look like, but I started very young. I am a bit in the middle of all these things.
About one year ago, when we decided to play this Symphonie Fantastique with La Grande Écurie et la Chambre du Roy, I listened to the recording of the first concert of the Orchestre de Paris: I was there, and I remember it very well, I quite didn't listen to it again since, and suddenly I realized how much empty space followed after Charles Munch's dead. His pupils and his very close friends like Ozawa or Bernstein were in some way his legacy. But despite their efforts, I don't find anymore this spirit and this understanding of music.
On the other side, the first thing I would say about Berlioz seems an evidence to me: he is a revolutionary. He was "against" everything!
He was against his father, especially when he was young, against the institutions, against Villa Medicis he didn't grant them much credit.
Though you can easily say, there was somebody he would have loved to be "against": it was his "belle Estelle" [Estelle Fornier, born Duboeuf].
He was barely 12 years old, and she was five years elder than him.She was the love of his life and has remained it until the end of his days. Now that I know his work, it seams quite clear to me (without trying to do any psicoanalisis) that this inaccessible feminine ideal has been an obsession which tormented him forever. Between us, it is quite evident, that this 17 years young lady didn't show any interest for this little, 12 year old kid.
This obsession translates into music especially in the Symphonie Fantastique with the "carrying theme", which Berlioz didn't call Leitmotiv but Idée Fixe.
His life was like a huge rollercoaster, varying in between enthusiasm and pique. In general he felt unhappy in France. But all this is relative, I believe he liked to complain because in reality he wasn't that miserable as he pretended, he was inventing his unhappiness, for me he was a real Shakespearean.
That way, in reality he didn't love Harriet Smithson [actress and his muse, his future wife, inspiration for the Symphonie Fantastique] but Ophelia and Juliet [two Shakespearean roles in which she was really brilliant]. He was paradoxical, he was mixing up things in a completely irrational way.
But let's go back to his first characteristics: of him being revolutionary!
He was not yet 30 years old when he composed the Symphonie Fantastique, and his entourage is made by composers like Cherubini and Meyerbeer (Berlioz gives some credit to Meyerbeer, but Cherubini never inspired him), all this tiny little world is to him the synonym of conservatory and institution.
He arrives there with this extraordinary symphony, which shakes everything. What is important to know is that only two years earlier were played for the first time all the Beethoven Symphonies (thanks to François Habeneck). Berlioz is drunk by this music, he becomes quite crazy, and he "dares" to write a symphony which in reality is not at all a symphony. Only with the time, the name "Symphony" obtruded on this work. Today we would call this a "poème symphonique" (symphonic poem) and by the way Berlioz calls it : "épisodes de la vie d'un artiste" (episodes of the life of an artist).
It is a revolution against the preconceived ideas, against academisme, the conservatory and institutions in general.
In order to understand in which context he was and the personalities which have influenced him, we must appeal to his sense of synthesis and his eclectisme. Literature and painting are translated in his mind to music and forge his unique and impetuous style. Goethe leaves incredible marks, but also Delacroix and Félicien David who was his close friend, and who awakened inside him his taste for orientalism. He also has a huge passion for Shakespeare – who has been in my eyes the first romantic ever!
However I found a connection between Gluck and Berlioz. You just need to have a look on Gluck's scores in Paris: we all know the viennese composer, but as soon he becomes a musician of Marie-Antoinette's court, we discover some kind of avant-garde hardiess.
If we compare the in Vienna around 1760 written "Orpheo"  and the french version which Marie-Antoinette asks him to compose, we assist to a real explosion: among other reasons because he is obliged to use the "Ballet de l'Académie Royale de Musique" in this new version.
Despite Gluck's influences, Berlioz has only a very vague knowledge of ancient music, besides some Rameau. Funnily, he is not very familiar with Mozart's work: in 1834 "Don Juan" is played in Paris, but Berlioz has not a huge interest for it and will dip in it only years later.
His encounter with Pauline Viardot [grand mezzo-soprano of her time, sister of the famous Malibran] will open his eyes: this incredible artist has a unbelievable culture going back until Palestrina (16th century)! She influenced Berlioz when transcribing "Orpheo" to her voice. And Saint-Saëns wrote and amazing Cadenza for Pauline Viardot.
In a more technical way, Berlioz intervenes among others in the evolution of musical instruments playing in the orchestra. Reckless, he also writes an orchestration treaties, and uses new instruments like the cornets à piston (cornet), horns (natural horns until there) then with two or three valves. In germany he is impressed by the Valvethorn which Wagner "blends" with the Waldhorn (natural horn) in Tannhäuser. He also very often hangs around at Adolphe Sax' atelier. As a composer, his demande pushes the makers to new discovers. In general, makers try to innovate when musicians and composers ask for something new.
Berlioz, who is "against" everything, lives in an epoque full of intense changings, not only historically talking, but also on a technological point of view. Berlioz is a true romantic rebel…"
I would like to thank Jean-Claude Malgoire who dedicated me some of his time…
(Comments in italic during the interview, inside rectanngular brackets are annotations I added in order to simplify some things for the reader.)