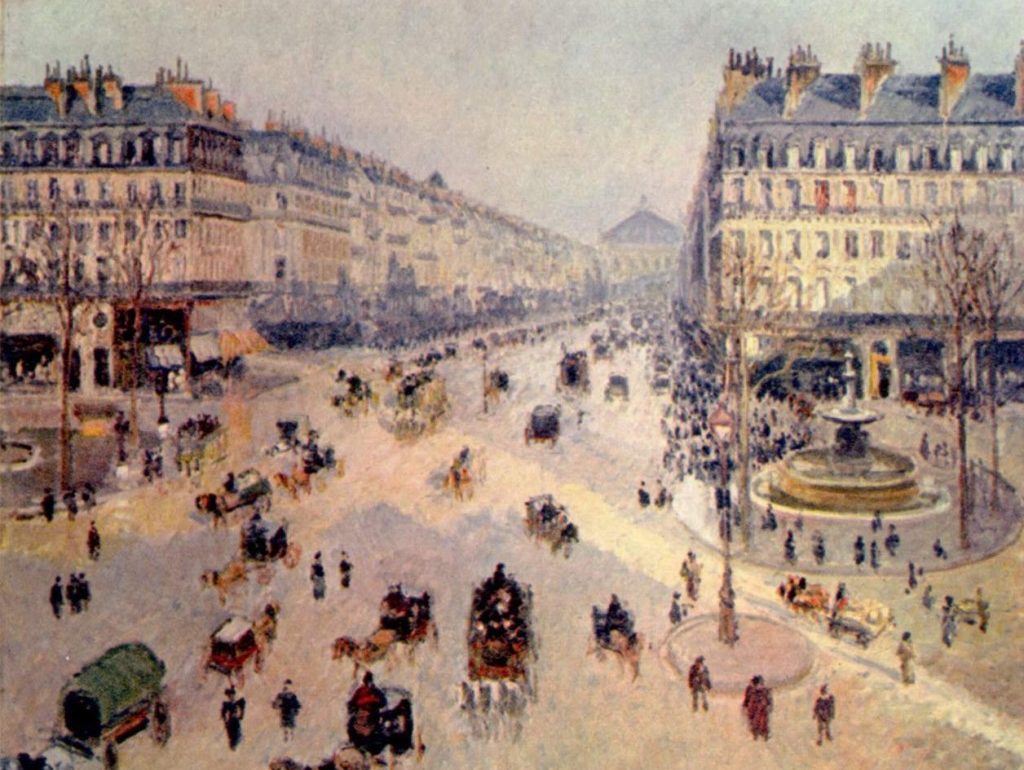 Ernest Chausson's "Poème" op.25 is one of these musical pieces which touched me since ever in a very particular way. Virtuoso, mysterious and singing at the same time, it's one of these masterpieces that all violinists fear.
After not playing it for over 12 years I decided to give a completely new try and to play it during the chamber music concerts I had at the beginning of spring in Riga (Latvia). In April, I will be happy to play this piece with orchestra. The perfect moment to have a closer look on this masterpiece, somewhat mystical, and on its composer, yet little known. 

***
Ernest Chausson was born in Paris on January 20th 1855.
At that moment of time, Paris is growing and modernizing, it's the beginning of prefect Georges Eugène Haussmann monumental public works. He wants to make of Paris a modern and clean city (the last epidemic Cholera happened to be in 1832!), the city had not undergone any serious change since Middle Age, it's a narrow and unhealthy place.
In 1859, Haussmann decides to extend the city of Paris to Adolphe Thiers' outerwalls. The town assumes it's actual shape, the districts are rearranged. At the same opportunity Haussmann destroys all Parisian revolutionary sites: two revolutions happened since the one of 1789, one in 1830, and one in 1848. Haussmann destructures all contestation sites "because once scattered, it will be more difficult for the working class to start an insurrection."
This campaign was entitled "embellished Paris, grown Paris, purified Paris". Paris is transformed and puts on it's most elegant frock.
Ernest Chausson comes from a family of the middle-class, originally builders, carpenters and businessman in construction in public works. They got to their well-being exactly because of the expansion and modernisation of Paris. He was by the way born at 12, rue Pierre-Chausson, a small street bearing his fathers great-grandfathers name, as he owned land around Porte Saint Martin (Paris, 10th arrondissement).
Ernest's life is in appearance clearly drawn: his two elder brothers died very young, he grows up lonely, a childhood lost in a golden cage. His family foresees for him a career as a lawyer. Ernest first does what was told him, and becomes trainee in 1877. But since 1875 he visits regularly Madame Berthe de Rayssac's private salon, where he discovers his passion for arts, especially literature, music, painting and poetry, and this will meaningfully change his life.
His family's well-being middle-class wealth allows him to give himself completely to music. While he is publishing his first compositions in 1878, he wishes to improve his composing knowledge in Jules Massenet's class, first as an auditor, then, starting from 1880, in his academic class at Paris Conservatory.
Also in 1878 he is introduced to Vincent d'Indy (the eminent French composer, one of the founders of the Schola Cantorum in Paris) during his sommer holidays in Bavaria. They will become very close friends. Vincent d'Indy will by the way be the one who will finish Ernest Chausson's quartet op. 35 for its posthumous publication.
Chausson concludes eventually his studies under César Franck in 1881, and even will enter the Prix de Rome, pushed by Jules Massenet, but it will be painful failure.
He then participates to the birth of the "Union des Jeunes Compositeurs", but this enterprise won't last long. For that reason he will straight away join the "Société Nationale de Musique" (SNM), then formed by the most important French composers of his time, as César Franck, Camille Saint-Saëns, Ernest Guiraud, Jules Massenet, Jules Garcin, Gabriel Fauré, Alexis de Castillon, Henri Duparc, Paul Lacombe,Théodore Dubois and Paul Taffanel.
Ernest Chausson get's married in 1883 with Jeanne Escudier, and enters through his family-in-law even more into the Parisian musical life of his time. He henceforth enrolls himself not only artistically, but also financially, with d'Indy, Husson, and Duparc, especially through the "Concerts Populaires" by Jean Pasdeloup (creator of the homonyme Parisian orchestra).
When Chausson becomes the secretary of the SNM he invests himself more then ever with all his heart, in particular bringing financial support. He hosts at his home, in his elegant hôtel particulier at 22 Boulevard de Courcelles, the most important artists of his time, like Paul Dukas and Claude Debussy, or the painter Eugène Carrière.
Despite a happy marriage and an accomplished family life (he had 5 children with his beloved wife) he still remains somebody extremely mysterious: some will say that he suffered of severe depression. When he dies in June 1899 in Limay, falling from his bicycle, some will consider the possibility of a suicide. He is buried at the Cimetière du Père Lachaise.
Ernest Chausson dies only 44 years old, leaving behind him a modest collection of compositions: included are 39 opus numbers and 24 without opus numbers.
***
Chausson composes the "Poème" in 1896. The famous Belgian violinist Eugène Ysaÿe has made the "Poème" op. 25 for violin and orchestra known to the audience. Ysaÿe himself did the first reading two month earlier, on November 6th 1896 at Cap Ferrât, near Nice, at the Catalan painter Santiago Rusiñol's house, where he had been invited by the violinist Mathieu Crickboom.
When analyzing closely the violin part and the way it has been written, you can easily figure out that Ysaÿe gave advise to Chausson, not only at a technical level, but also when it's about the possibilities to obtain special sound effects of this instrument.
When Claude Debussy hears for the first time the "Poème" in concert, he considers that it "contains all the best qualities. The freedom of it's form never impedes its harmonious proportion. Nothing is more touching than the sweet dream of the end of this Poème, when music, leaving behind all kind of description or anecdote, becomes the feeling itself that inspired its emotion."
Ernest Chausson's "Poème" becomes this way, under Claude Debussy's authority, an example of superiority of this "pure music" over "the other", accused to be "compromise of principle".
And Claude Debussy even goes farer in his analyze: he contests that the "Poème", at the end, leaves behind "any kind of description or anecdote". But this would mean that this piece was earlier subject of a "description" of something specific, and that Claude Debussy knew about the source.
Actually, it's only during the 1960's that a very important detail was unterstood, when the manuscript of the "Poème" in its reduction for violin and piano was discovered. It carries one very important clue indeed: under the title you can read the words "Le Chant de l'Amour Triomphant",  ("The Song of Love Triumphant"), which is, as you know, a novel by Ivan Turgenev
Ernest Chausson was a real connoisseur of Ivan Turgenev: he had his complete work in his personal library. And this is indeed not surprising. As is well known, Turgenev had been very much involved into Parisian musical life. Bounded for a long time to Pauline Viardot (she had been inspiring George Sand for "Consuelo") she will translate Turgenev's complete work.
Ernest Chausson would have been composing the "Poème" inspired after reading this novel,"The Song of Love Triumphant" (Песнь торжествующей любви) written in 1881.
The somehow a bit mystical story can be resumed like this:
Muzio and Fabio, two brothers and artist in Ferrara, fall both in love for Valeria, a young women of an incredible beauty. When it's about time to marry, she chooses Fabio.
Leaving for the Orient in order to forget his love, Muzio comes back five years later, taking with him the habits he learned during his journey. He initially gives the impression of having forgotten his ancient love for Valeria, but quickly impresses her, in particular by playing a fabulous melody on an oriental violin. Attracted in a strange way and terribly uncomfortable at the same time, Valeria drives Fabio crazy of jealousy. Fabio stabs to death Muzio, but Muzio's Malay servant brings him back to life and takes him to a better world. While Valeria believes to be freed of this strange curse which she was feeling on her since Muzio's return, she realizes that she is carrying a new life in her womb…  
Once we know about this story, we could easily find a direct link in between each single passage of the "Poème" and this novel. For example, it could be easy to explain the first idea of the "Poème", with its long melody – one of the most beautiful romantic phrases ever written – exposed with non accompanied violin, starting uncovered, from very deep, corresponding that way very exactly to the words in that novel.
But perhaps it's not that simple: would Chausson have been writing a musical word-by-word transcription in a certain sense? Or quite the opposite, was it this melody which seduced him, and which he wanted to give full expression to his own imagination? Didn't Chausson maybe want us to believe that he was following this novel, in order to leave his spoor and confuse tracks? Wasn't he lonely and depressed?
Notwithstanding, Chausson had erased himself the title of Turgenev's novel, hiding that way a precious clue to all performers – or is it all the contrary, is it the title of the novel which had to hide something much more personal that he didn't want us to know?
We then understand much better Debussy's sentence, much clearer and pervasive than it could seem at the first sight.
Chausson has been in any case realizing, under the thrust of the Russian novelist, a new form of work for violin and orchestra, going much farer than the symphonic poem.
Just like all these works that we play today, its a huge treasure hunt, where you go through reality, history and society, poetry, painting, and daily life. It's up to the musician to make of all this something special and take the audience to a journey.
The "Poème" is a wonderful reflection of Paris by the end of last century. It bears in its notes the inspiration of long, far journeys, like the universal exhibition. An instant image of its time, its world, that we only can try to imagine today.